23
1952 -- Thirty-one year old Yuji Yoshimura, assisted by German agricultural diplomat Alfred Koehn, began the first bonsai course for foreigners in Tokyo at his Kofu-en nursery. [It was an instant success and within three years over 600 students -- mostly foreign dignitaries, military personnel and businessmen and their wives -- would be taught the six-lesson course in classical bonsai art.]
A tropical plant expert, Koehn lived and worked in Japan for several years in the early 1930s. He studied Japanese flower arrangement in Kyoto for four years before moving to Peking in 1935 to study Chinese arts and culture. While living in Peking during the Japanese invasion (1937-45) he established his "Ra Shi" kennel for Shih-tzu dogs. (In 1948 he was the only breeder of those dogs in the capital.) Koehn left China to return to Japan in 1951 to open courses the following year in the cultivation of bonsai in collaboration with Yuji Yoshimura. His Notes on Bonsai (1953), with hand-tied wraps, two full color plates and four pages of black and white plates with multiple images, was an early work in English on bonsai.
Koehn's other publications included The Way of Japanese Flower Arrangement (1937), Japanese Tray Landscapes (1937), Mountains and rivers: woodblock prints from paintings by contemporary Chinese artists (1939), Embroidered Wishes (1943), Confucius, His Life and Work (1944), Kindesehrfurcht in China (1943, then the following year in English as Filial Devotion in China and in French as Piete Filiale en Chine), Fragrance from a Chinese Garden (1944, with Wang Hsiang-chan), Royal Favorites (1948), Window flowers: Symbolical silhouettes for the Chinese New Year (1948), Japanese classical flower arrangement (1951), Bonkei: Japanese Tray Landscapes (1952), "Harbingers of Happiness: The Door Gods of China" (in the Monumenta nipponica) (1954), and Japanese floral arts: Flower arrangements, tray landscapes, gardens (1955) -- among others.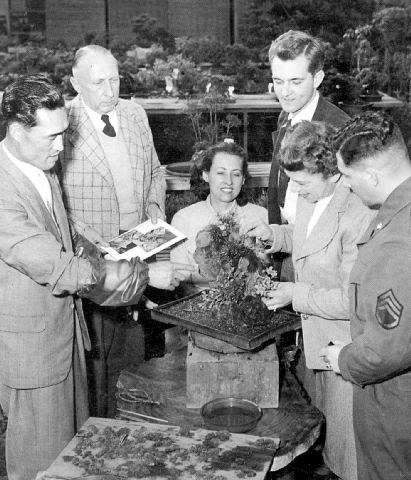 "Alfred Koehn, next to Mr. Yoshimura on his left, is explaining rock planting techniques to
Mr. Yoshimura's students in his course in 1952." (Photo by Yuji Yoshimura)
(International Bonsai, 1998/No. 1, pg. 33)



("Yuji Yoshimura, A Memorial Tribute To A Bonsai Master & Pioneer" by William N. Valavanis, International Bonsai, IBA, 1998/No. 1, pg. 32; "Alfred Koehn," http://tiny.cc/70l6l; "Alfred Koehn," http://tiny.cc/i5l1j; http://www.pem.org/aux/pdf/library/Herbertoffen.pdf; http://tiny.cc/i0x6s; "A Brief History of the Shih-tzu," http://www.bakalo.com/history.htm; "Shih Tzu - The Last Shih Tzu To Leave Peking," http://www.articlealley.com/article_13784_54.html; Yuji Yoshimura's collaborator is not to be confused with the German doctor of the same name who lived 1911-1984) SEE ALSO: Jan 12, Feb 27, Jul 17, Nov 2, Dec 24

1998 -- After a year in quarantine, seven magnificent bonsai masterpieces from Japan were unveiled at a gala ceremony in the U.S. National Arboretum's National Bonsai and Penjing Museum. Funds for the donation were underwritten by the Nippon Bonsai Association (Japan) and the National Bonsai Foundation (U.S.). The oldest of the seven was a 250 year-old needle juniper (Juniperus rigida) in training for thirty years and donated by the Governor of the Saitama Prefecture. Two days following this ceremony two other additions were made to the Museum: a beautiful California live oak bonsai and a self-portrait, both created by John Naka. The painting was done at the request of the NBF and the Arboretum so that it could be hung in the museum as a lasting reminder of John's many, many contributions to bonsai. ("Arbor Friends," newsletter of the Friends of the National Arboretum, Summer 1998, pg. 1)


2000 -- William "Bill" E. Southworth died. (Born on April 30, 1924 in Fulton, NY, he had read of the collection of Ming trees at the Brooklyn Botanic Garden in a 1939 [sic] issue of Life magazine. When he was stationed as a Marine in China and later in Japan in 1946 he was first exposed to bonsai. After retiring from engineering (after retiring from the Marines), he finally began studying bonsai under Dick Whidman, John Naka, Harry Hirao, and Ernie Kuo. Eventually he taught at Cypress College and later began teaching from home. He helped the Vietnamese community form their own bonsai club. He loved organizing bonsai exhibits and shows for the various clubs and organizations and had many a tale to tell of the successes and pitfalls of each one. Equally as interesting were his recollections of his years spent in the maze of politics in the bonsai community. Bill was a most ardent supporter of anyone who wanted to try his/her hand and luck at training and raising these beautiful, and at times exasperating, miniature living art forms.) ("In Memory of William 'Bill' E. Southworth," http://www.prepgraphics.com/kofu/Sale10/southworth.html, accessed July 6, 2001)

25
1890 -- Heian Tofukuji was born. [Originally he would be a comb maker. When his job was eliminated fairly late in life, Tofukuji would decide to become a professional bonsai potter. He'd live in Kyoto and use an oven in a Kyotoan temple or the kilns of friends and fellow potters at first to fire his pots. It would be difficult using a common kiln, often getting the bad position of having pots at the outer circumference of the fire. However, Tokufuji would research and correspond with other potters about this unfavorable condition, and from this would come consistantly excellent vessel forms, foundation soils, and colors of glazes. He would be renowned for his beautiful handmade bonsai pots in different sizes and the special glazings he'd use for them. He would become one of Japan's most respected potters. In his long career as a potter Tofukuji would use more than twenty different rakkans (the maker's signature) and it would therefore not always be easy to distinguish between a genuine Tofukuji pot and an imitation. Several books would be published about his work. His son would also be a potter. The senior would die in 1970. As with many artists, his works would begin to attract attention after his death and subsequently prices for them would begin to soar. As using a common kiln would have necessitated the firing of smaller pots, only decades after his death these containers would become valuable when shohin bonsai overtook larger-sized bonsai in popularity.]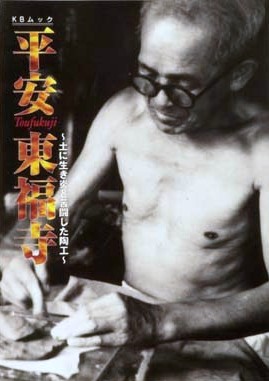 (van der Hoeven, Maarten "Special pots from Japan," Bonsai Focus, 4/2008, July/August, #116, pg. 84; "Heian Tofukuji," Sam & KJ's Suiseki Blog, 30 Aug. 2009, http://samedge.wordpress.com/2009/08/30/heian-tofukuji-%E5%B9%B3%E5%AE%89%E6%9D%B1%E7%A6%8F%E5%AF%BA/; "Glazed Pots by Heian Tofukuji," Japanese Bonsai Pots Blog, May 19, 2011, http://japanesebonsaipots.net/2011/05/19/glazed-pots-by-heian-tofukuji/; "Two Special Tofukuji Pots In Depth," Japanese Bonsai Pots Blog, January 13, 2012, http://japanesebonsaipots.net/2012/01/13/two-special-tofukuji-pots-in-depth/; "Heian-Tokufuji," http://www.yoshoen.com/tuhan/pot/pot_a12.html; a number of Tofukuji's creations are shown in the second, third, and fourth of these resources and also here and here) SEE ALSO: May 20

1967 -- Michael Hagedorn was born. [He would grow up in the mixed forest of Upstate NY. He would then develop an art background ranging from painting and drawing to ceramic sculpture and installation, with a Masters in Ceramics from the New York State College of Ceramics. He would make bonsai containers for nine years in the 1990's in upstate New York and Arizona, sometimes giving talks about what was involved from the clay particles to the kiln-fired pieces. But before all that, he would already be into bonsai; the Sunset book would trigger a passion for bonsai when he was only sixteen. After a second meeting with Boon Manakitivivpart at the 2000 Golden State Convention in Oakland, CA, Michael would study at a "bonsai intensive" hosted by this teacher. Too frequently in those last few years Michael would walk home after making pots in the studio and realize that he'd been thinking about trees all day. He would pack up this incomplete career, squirrel it away in a five-by-ten storage unit, and, at age 36 in December 2003, surrender to a rare opportunity. He would would travel to Obuse, Nagano Prefecture, Japan where he would apprentice for three years under bonsai master Shinji Suzuki. (Boon and Hideo Metaxas would have aided Michael during his introduction to Suzuki.)
"The ranks of bonsai apprentices are dwindling, as easier careers proliferate. Mr. Suzuki would remind us to the point of sounding like a broken record that to be a deshi, or apprentice, was to become stronger and grow through our kurou, our struggle, and not to flinch from it. The two words were nearly synonymous: apprentice/struggle. Since apprentices are usually young and mostly lack kurou, it follows that they are in definite need of it. 'You cannot create great bonsai if you don't understand this!' Mr. Suzuki would repeatedly explain... Most enter apprenticeships as teenagers just out of high school and their master's job is not only to teach them a trade, but also to finish raising them.
"New apprentices might arrive eagerly with tools in hand, with the natural assumption that their primary purpose is to study bonsai. They soon learn that this is a counterproductive concept to be burdened with. To masters, apprentices are commodities, and learning the art of bonsai - while important - is secondary. Apprentices enable the livelihood and success of their masters. The art of bonsai is transmitted along the way. Direct teaching is new in bonsai; particularly in past generations, very little formal teaching was done. Some of the younger masters have shouldered the new expectations and sometimes offer explanations for why we do what we do alongside the traditional structure of show and copy. Basic apprenticeship assumptions, however, have remained the same for a long time: the master provides room and board and work for the apprentice, and the apprentice does what the master says to do and commits to a certain term of stay. The agreement that [Michael] had with Mr. Suzuki was verbal.
"Soji, cleaning, is a word a foreign apprentice will learn on the first day. For the most part cleaning is one of the few things an apprentice can do without being overly lectured, and so for those who clean enthusiastically there is some peace to be had. Each morning we swept up fallen leaves under bonsai benches, removed errant soil on top of them, pulled weeds, and scrubbed the studio - this took perhaps an hour if we were focused. We had three large greenhouses, a studio, and a museum across the street to clean.
"Spring through fall, when plants are growing and dropping things, was our busiest time for keeping things tidy... More than once I found myself in muted rages against the fact of entropy itself. I later learned this was miles from the approved apprentice attitude. Attitude is everything. Mr. Suzuki strictly emphasized the tidiness and cleanliness of all areas. He instructs us, 'These carpeted paths are here for a reason - without them, clients will get mud on their expensive shoes. They get it in their car. They won't be back.' He looks at our blank, unenthusiastic faces and grins, saying, 'When I was a first year apprentice, all I DID was clean! You are lucky, working on trees in your first year.'
"It is said that it takes three years to learn to water bonsai properly. I've heard masters admit in rare, transparent moments that they are still learning the finer points of watering. Many masters do not let incoming apprentices water the bonsai because it is such an important and complex job - more experienced apprentices will usually carefully monitor the watering and fertilizing. Watering and fertilizing is work done exclusively by apprentices, as masters are too busy with clients or other work.
"The apprentice learns the tradition of bonsai by default. It was not fancy. We opened no books. I began by cleaning the studio, pulling weeds, and making tea; even lifting trees was initially off limits. I watched. I learned bonsai, and everything tangential to it, literally from the broomstick up. Very soon I was lifting trees, progressively larger ones until I was not much interested in lifting any more. I was allowed to water bonsai, fertilize them, spray for insects, repot, and wire them. Early on Mr. Suzuki might demonstrate on the branch of a bonsai what he wanted me to do with it. After several months I was styling bonsai while he was away for a week. Initially it seemed an odd and partial education. The abbreviated formal teaching we received was infrequent at best. We watched, and copied, and as a byproduct of this mute exercise, learned. Occasionally we might pick up some finer points from an obscure comment, as if it were a head-scratcher from a book of counter-intuitive sayings of Lao Tsu. Often the comments remained obscure, something to puzzle over when taking a tea break. Contemplated while rubbing sore biceps. At face value, this sort of teaching appears ridiculous. But eventually the fruits ripen. We were not taught equations, but how we ourselves relate to the questions. If everything is handed out and explained, little is actually learned, or at least understood in a gut sense. Passively acquired information rarely becomes primary and a guide for us. It's the stuff that we puzzle over and awaken to that remains as a touchstone. It becomes applicable.
"Unlike the European guild system, the bonsai community in Japan does not have a controlling body. In the study of bonsai in modern Japan the standards are decided by the apprentice's master, not a syndicate of masters. When the term of study is completed, and the bonsai master is satisfied with an apprentice's level of skill, the apprentice is allowed to go to the Nippon Bonsai Association in Tokyo to receive a certificate entitling the new graduate to teach bonsai. There are no tests or masterpieces that need to be offered for review at the Nippon Bonsai Association. It is sort of an honor system that assumes masters will use their best judgment in sending students to pick up a certificate. It is rare in the bonsai community for an apprentice, after completing studies with one master, to then go and study at other places with other masters. The techniques from a bonsai studio are often seen as proprietary knowledge, not to be shared with others. Specialists have developed in bonsai - a master is known for his work on pine trees, for instance, or for deciduous work. They are covetous of their knowledge, and apprentices are often asked to keep secrets. With other apprenticeships this is not the norm. Zen monks, for example, often end their studies as peripatetic journeymen of sorts, moving on to study with other Zen masters. Depending on where the bonsai apprentice trains, the skills learned will be different. The profit margin in the business of bonsai is greater for those who are merchants - buying a bonsai from a client, auction, or estate sale at a low price and selling it for a higher price to another client - than for those who actively create bonsai. In a merchant enterprise, business and social skills are more critical to success than knowledge of bonsai technique. To rework a tree, and perhaps take a few years doing so in order to improve its aesthetics and value, is to be content with a slow financial turnover. Therefore masters often have specialties in this regard too, being either creators or bonsai or sellers of them, and incoming apprentices are often aware of this and may choose to study under a master who has better connections, or who is known to be an especially good artist, according to their interests. Many masters need to do both selling and creating.
"[There was a] vast disparity of skills and quality [apprentices see around themselves]. It was apparent that only a few handfuls of masters actually understand the work of creating bonsai, and the rest either farmed their clients' trees out to these skilled masters to rework, or simply bought and sold them without trying to improve them at all. We could not help wondering about the future of bonsai in Japan... Times have changed in the Japanese bonsai world. Currently there is a dramatic falling-off of the numbers of apprentices entering into bonsai. Old photos from fifty years ago show as many as eight young apprentices at a time clustered around their master. The average now is one or two."
Seven trees that Michael wired would be accepted into the Kokufu Show in Tokyo 2004, 2005, and 2006, two in the Taikan Ten, and one in the Sakufu Ten. Michael would also be honored by Suzuki-san to do the wiring on two trees that went on to win a Kokufu Prize and Prime Minister Award.
On Michael's return from Japan in 2006 he would settle in Portland as a professional bonsai artist, where he'd create, teach, and write about bonsai. Shortly after returning he'd set up the Seasonal program for those willing to travel to study bonsai in Portland. In 2008 he would author an anecdotal book of his apprenticeship, Post-Dated: The Schooling of an Irreverent Bonsai Monk. He would have a couple more books in the works, and would blog weekly (from his long-standing website http://crataegus.com/, which would date from at least January 1998). Michael would be a founding member with Ryan Neil of the Portland Bonsai Village. Michael's efforts there would be focused on promoting excellence, forming a viable professional network and showcase, and inspiring bonsai enthusiasts nationally and internationally. A two-part interview with him would be published in Stone Lantern's blog, Bonsaibark, in early 2009. (See also these still photos and video of his garden here.) He would be involved with Neil Ryan in presenting the Artisan's Cup in September 2015 in Portland, OR. In December 2015, as part of Bonsai Empire's 15-year anniversary celebration, Michael would be one of several international artists and teachers chosen to answer reader-submitted questions. Michael's topic would be "What we learned about Bonsai since John Naka."] ("Bio," Crataegus Bonsai, http://crataegus.com/bio/; Post-Dated, pp. 14-15, 22, quotes from 38-40, 45-46, 53, 175-176, 179-182, and 186-189, 216; "Michael Hagedorn Biography," http://bonsai-bsf.com/?page_id=774) SEE ALSO: MarAlso, Sep 25, Nov 21

1977 -- Mas Kurosumi died of a heart attack at age 53. (Mas was the first importer of bonsai pots into the U.S. to try to understand the needs and tastes of bonsai growers. Other importers had been bringing in the same type of pots for twenty years and were not about to change. Mas would listen to what the retailers were saying and, as a result, the bonsai watering nozzle came into existence. He was a salesman for the Toyo Trading Co. for more than ten years before going into business with another salesman. But having suffered his second heart attack in five years, he dissolved the partnership because of his health. In 1972, however, Mas restarted in the import business on his own under the name of Sanyo Imports. It was at the 1974 joint BCI/ABS Convention in Pasadena, CA that he first attracted attention with his variety of different containers. Appearing at both the BCI Conventions in Miami Beach (1975) and Washington, D.C. (1976), his contacts and friends in the world multiplied.) (Komai, Khan "In Memoriam," Bonsai Magazine, BCI, Vol. XVI, No. 6, July/August 1977, pg. 162.)

1995 -- Arch Hawkins, editor of the American Bonsai Society's Bonsai Journal since the summer of 1992, died. (A founding member of the bonsai clubs in Dallas (1965), Austin (1966 but short-lived; reborn in 1972), and Houston (1971), he was named an outstanding bonsai artist by the National Bonsai Foundation in 1987. He was a member of both ABS and Bonsai Clubs International and wrote articles for both organizations' publications.)


"Archie Hawkin's boxwood, collected from an old estate..."
(Bonsai Journal, ABS, Fall 1974, pg. 59)


"Archie Hawkins, Editor"
(Bonsai Journal, ABS, Winter 1994, pg. 131)


(Cody, J.R. (Bill) "Arch R. Hawkins," Bonsai Journal, ABS, Summer 1995, pg. 52) SEE ALSO: Jun 15, Jul 2

2010 -- Author and teacher Jerry Stowell died about a month and a half shy of his 83rd birthday at Hunterdon Care Center, Raritown Township, NJ. ("Jerry Stowell," posting by bonsaistud, 2 May 2010, http://ibonsaiclub.forumotion.com/announcements-f5/jerry-stowell-t2925.htm) SEE ALSO: Jun 9

2017 -- Cheryl Owens, 90, passed away in her Elkhart, Indiana home, after an extended illness. (A graduate of Elkhart High School, Cheryl worked as a secretary at Ames Company/Miles Laboratories, where she met her husband-to-be, Charles V. Owens, Jr.
(Cheryl was a master gardener and created a beautiful oasis around her home on the St. Joseph River. It was often featured on garden tours. She was perhaps best known as a bonsai enthusiast, having studied with Japanese masters of the art, and was thrilled to be one of the few outsiders given the privilege of visiting the Imperial Bonsai Collection in Tokyo, Japan. In addition to her studies with John Naka, Cheryl made a number of trips to Japan, Korea and Taiwan to study bonsai. She generously shared her knowledge of bonsai in schools and with the various bonsai and garden clubs of which she was a leader and member. From 1968 until 1978 the "Elkhart Bonsai Club" and from 1988 until 2008 the "Elkhart Bonsai Study" group met once a month in the Owens' bonsai garden. In 1972 the Elkhart club had its first exhibit and demonstrations at the Pierre Moran Mall. The Michiana Bonsai Study group is the latest in a succession of bonsai clubs in the South Bend-Elkhart, Indiana area, coming into being by a vote in the fall of 2010 of the members of the Wellfield Bonsai Study group. Cheryl was an American Bonsai Society (ABS) director from 1976-77. She authored two articles in 1977 for the ABS Journal. She was the author of six articles in the Bonsai Clubs International (BCI) magazine between 1972 and 1999, and a vice-president of BCI in the mid-70s. Cheryl and Charles were the 2001 winners of the BCI Meritorious Service Award. The pair then honored Ben Oki, John Naka's premier student and a master in his own right, with both the Ben Oki International Design Award and the Ben Oki National Design Award -- the awards for excellence in bonsai design quality sponsored by the BCI and the (ABS), respectively.
(Cheryl was also a member of the Embroiderers' Guild of America and accomplished at embroidery, needlepoint, knitting and other needle arts. She also had a strong interest in Native American art and culture. Fiercely independent and opinionated, Cheryl was often teased by her children for the vast accumulation of random trivia that she picked up, and always shared. She was a gracious host, curious about the world and a friend to many across the globe. Throughout their life together Cheryl and Charlie traveled extensively, visiting every continent except Antarctica. He predeceased her in June 2008, after 50 years of marriage.) [Cheryl is survived by her sister, five children, eight grandchildren, and 2 great grandchildren. Memorials may be given to Frederik Meijer Gardens & Sculpture Park, Grand Rapids, Michigan (about 90 miles to the north of Elkhart) for care of the Owens' bonsai collection.]
(Personal email to RJB from Cat Nelson, 04/26/2017; "Cheryl Owens," South Bend Tribune, April 28, 2017, http://www.legacy.com/obituaries/southbendtribune/obituary.aspx?n=cheryl-owens&pid=185230698&fhid=8850; "About Us," Michiana Bonsai Club, http://michianabonsai.club/; "Ben Oki," Bonsai Society of Florida, http://bonsai-bsf.com/?page_id=795; The Indices for ABS and BCI, 2004) SEE ALSO: Mar 16